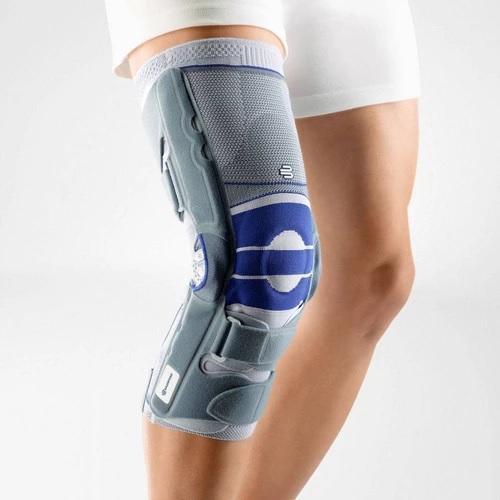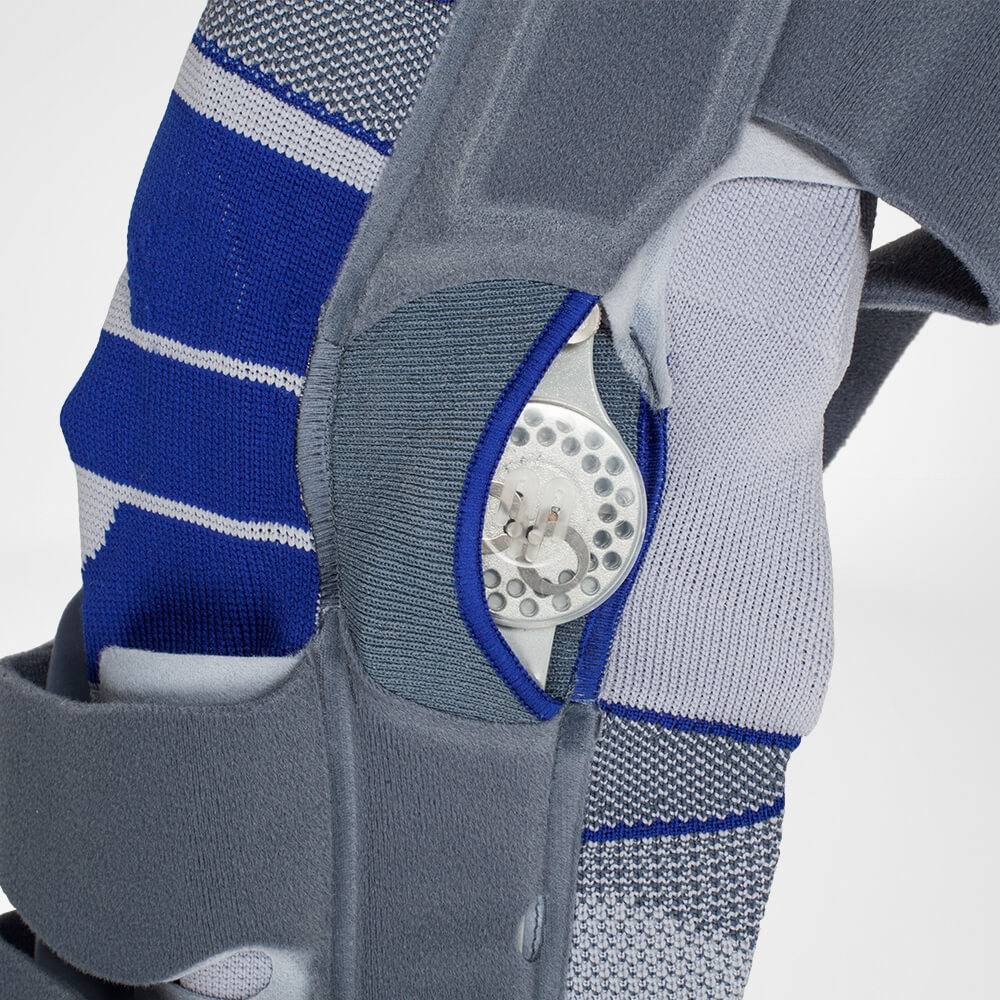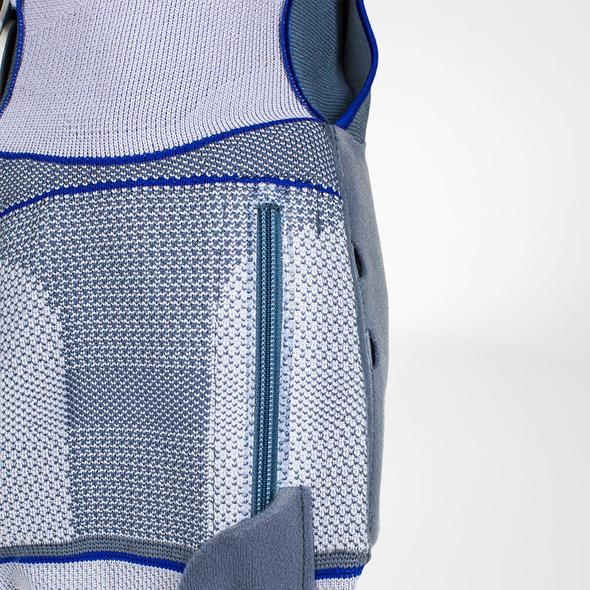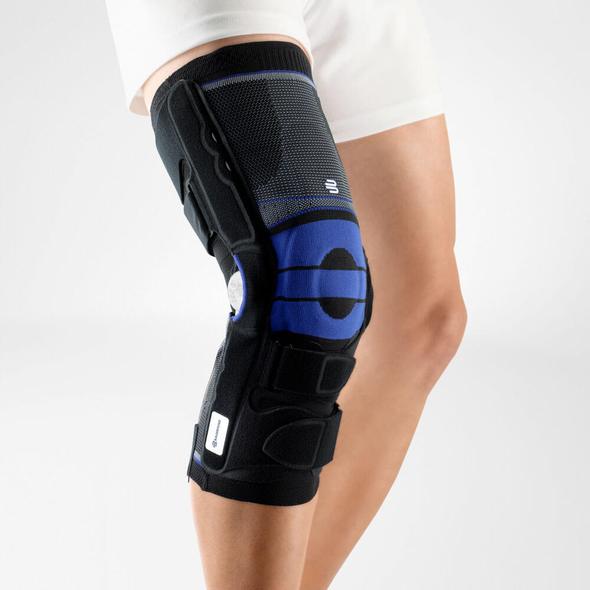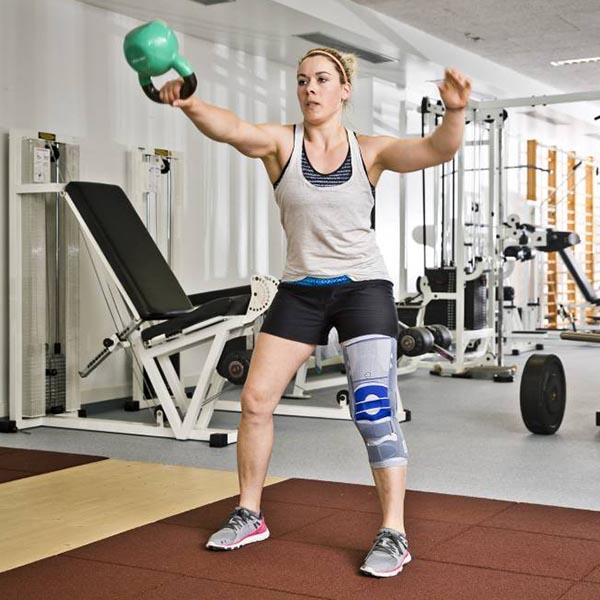 SofTec Genu Knee Brace
---
Overview
SofTec® Genu is a multifunctional orthosis for stabilization of the knee. It is used, for example,in cases of torn ligaments, collateral ligament injury or arthritis. Its construction combines: stability and control provided by fixed joint splints, healing massage provided by a pad on the kneecap and maximum wearing comfort thanks to the anatomically shaped, breathable SofTec® vector-oriented knitted fabric.
Helps to relieve pain
Massages with every movement
"Intelligent" joint splints stabilize the knee
---
QUICKLY ON YOUR FEET AGAIN
If your knee has been injured or just been operated on, it needs to be protected from excess strain. SofTec® Genu gives you a great feeling of stability, without restricting your mobility. On the contrary: every movement also activates the massaging nodules on the built-in knee pad. These massage the surrounding tissue and so speed up the healing process.
THE INTELLIGENT KNEE ORTHOSIS
The position of the axis of rotation in the knee joint varies from person to person. That is why the SofTec® Genu knee orthosis comes with "intelligent" side joints. They adjust automatically to your personal axis of rotation. This reduces strain on the knee and means that the orthosis follows every non-damaging movement you make. 


---
Indications
Isolated rupture of the anterior cruciate ligament up to and including the "unhappy triad": Conservative treatment, Pre-operative and postoperative management, Long-term rehabilitation – sports therapy, Chronic insufficiency
Conservative functional treatment of collateral ligament injuries
Treatment of "unstable knee joint": Severe osteoarthritis of the knee, Rheumatoid arthritis – progressive rheumatoid arthritis, Endoprosthesis – secondary rehabilitation, Post-traumatic
Restricting the knee's range of movement (e.g. after meniscal suturing or meniscal implantation)
---
MEASUREMENT AND PRODUCT RANGE
---
Care Instructions
Never expose the orthosis to direct heat (e.g. heating, solar radiation, etc.). SofTec Genu can be cleaned separately by hand washing with a mild detergent at 20-30 ° C. To do this, the hinged splints must first be removed from the side pockets. Proceed as follows:
Open the two thigh straps. Pull the straps out of the plastic loops. Secure the ends of the strap by turning them over. The side pockets can now be opened by pulling the entire Velcro area to the side.

Remove the two splints. Attention: Remember that the splints are shaped to fit the body and are therefore different. The hinged splints are color-coded according to their assignment and must be reinserted into the same side pockets from which they were removed after the washing process.

Before washing, guide the straps back through the plastic loops and close all Velcro fasteners so that the later hook-and-loop ability is not impaired.

After washing and drying the SofTec Genu, insert the hinged splints back into the side pockets. The colored marking of the hinged splints and the colors of the inner pockets must match. The upper, color-coded part of the joint splint must be pushed back under the color-coded inner pocket.

Now close the side pockets.