How Athletes Benefit from the Bauerfeind Wrist Strap
Nov 30, 2020
As the weather begins to shift, you may see some of your workouts changing to an indoor setting. Whether you are working out at the gym, an indoor court, or your home, continuing to care for your muscles as they get stronger is key to a healthy body. For example, those who place a lot of strain on their wrists while working out need to be careful to not pull or strain any important tendons and ligaments. One wrong move can result in an injury that will make lifting, catching, throwing, or swinging impossible. Fortunately, the Bauerfeind Sports Wrist Strap offers many benefits to athletes all year long.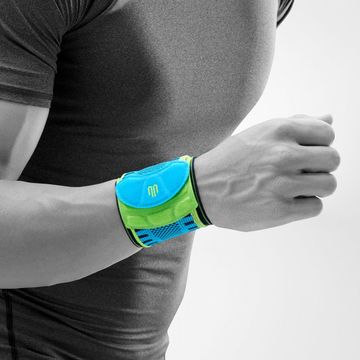 Benefit 1: Stabilization
One of the main benefits of the Sports Wrist Strap is that it relieves and stabilizes the wrist during intense exercise sessions via targeted pressure. Whether you are shooting some hoops or swinging a tennis racket, the sport strap reduces load peaks during both training and competitions. This provides preventative protection against sport-specific symptoms of excessive strain. This will allow you to continue playing and training safely. 
Benefit 2: Optimum Comfort
Is there anything worse than an uncomfortable wrist strap? Fortunately, another one of the benefits of the Bauerfeind Sports Wrist Strap is that it is available in two sizes and offers high wearing comfort and an optimum, precise fit. This means you never have to worry about the strap digging in or sliding about.
Benefit 3: Specialized Pressure
The sports wrist support can also be set to the desired pressure using the adjustable strap available. This will allow you to regulate the relieving pressure on the wrist depending on personal preferences and the specific type of sport that you are playing. When it comes to comfort, safety, and reliability, one-size-fits all just doesn't cut it. 
Benefit 4: Increased Confidence
Thanks to the quality German engineering seen within the product, the Bauerfeind Sports Wrist Strap allows athletes to head into their next workout or competition knowing that they are protected. This not only improves safety, but confidence with each wear.